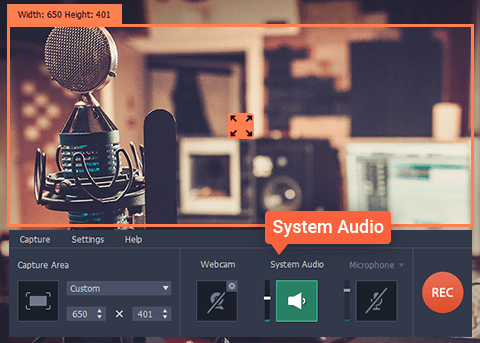 Do you occasionally tune into an internet radio station and listen to some tunes? Perhaps you like streaming some of the talk shows that are available online instead? Nowadays there's a lot of streaming audio content, including those from big name services that offer music-on-demand such as Spotify – but the one thing that streaming audio platforms all tend to share in common is that they generally don't have any way for you to 'save' a song or segment that you like to listen to it later.
While that restriction is present for a number of reasons, if you want you can actually get around it and record audio from internet while it is playing and then saving it. The easiest way to do that is by using Movavi Screen Capture, which is more than capable of recording audio from your PC.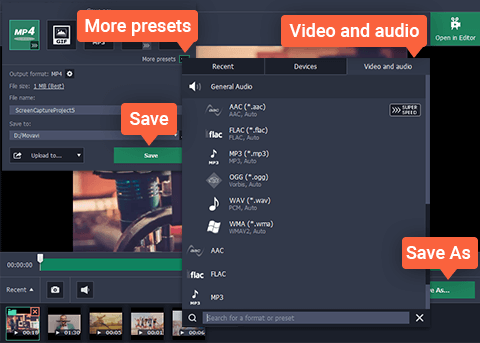 Setting up Movavi Screen Capture to record streaming audio is extremely easy. Because you're only interested in recording the audio you can dispense with most of the settings in the screen recorder and only need to focus on making sure it records the system audio. In short all you need to do is make sure the system audio icon is active (i.e. highlighted). Ideally you should also make sure the microphone icon is not highlighted too, so that you don't accidentally record audio from it that could interfere with the streaming audio that you really want to record.
Once it is all set up you can start the recording at any time and manage it with the on-screen controls. Alternatively Movavi Screen Capture has several convenient hotkeys that you can use – such as F9 to pause and F10 to stop the recording.
When you do stop the recording a preview window will let you review the video and audio that you recorded. Seeing as you're only interested in the audio, you can then opt to save it and select an audio format such as MP3, WAV, AAC and so on – which will essentially discard the video in the process.
All in all it will only take a couple of clicks for you to set up, record, and save any streaming audio that you like – regardless of whether it is a song, talk show, or any other type of content. That is the beauty of Movavi Screen Capture, and why it makes for an excellent streaming audio recorder despite being a screen recorder by design.